Do you feel like spoiling your kid with new children's toys? Or, do you need to purchase a gift for a friend or your nieces or nephews?
Unfortunately, children's toys can be very expensive. And, when there's no guarantee the child is going to play with it forever, it's even more important to save money on your purchase. 
So, here are some children's toys you can easily stack up on with these awesome deals!
Vintage Truck
What's cooler than a toy truck? And, a vintage one at that! This truck is a great play toy for kids, and something they can save as a nice collector's item for when they get older. Get it now at Playmobil for 25% off, and free shipping!
Price: $12.74
City Food Truck
If the Vintage Truck doesn't really fit your child's interest, then maybe they'll like this City Food Truck, also from Playmobil, better. This truck resembles everyone's favorite hot dog truck. And, it's on sale, too! This one you can get for 20% off, plus the free shipping.
Price: $19.99
Betty Spaghetti Dolls
Who doesn't love a Betty Spaghetti doll? They are colorful and fun to play with, and each doll comes in a different style. Your child can collect them all, and you can save money getting them this toy. That's because right now, Betty Spaghetti dolls and accessories are on sale at Toys R' US for up to 50% off. What a deal!
Price: $6.49-$14.99
Angry Birds Figures and Accessories
Angry Birds have been a hit with adults and children alike. While the extent of most adults' involvement with this game stops at the use of the phone app, some kids enjoy watching the movie and playing with the toys. Now, also at Toys R' Us, you can save money on Angry Birds Figures and Accessories at up to 30% off!
Note: Toys R' Us is also offering free shipping on purchases more than $19
Nerd Block Boxes
Well, isn't this just the gift that keeps on giving? We're sure there are many adults out there who will be intrigued by this toy as well. But, for the child that loves all things Stan Lee, then this is a great deal for them. After choosing the category you like, whether it be Sci-Fi or Comics, you'll get a box delivered to your door with anything from a t-shirt to children's toys, and other items. Get your child their first Nerd Block at 50% off!
Price: $19.99/month+50% off first box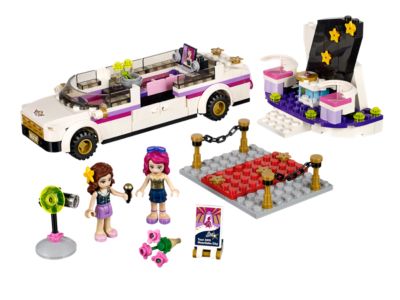 LEGO Galore!
LEGOS are definitely a past-time and they're an awesome toy that promotes critical thinking, motor skills, and sometimes, even a bond a between kids and their parents. LEGOS come in all kinds of themes, and can also be kept as collectibles for years to come. Best of all, you can now get all kinds of deals on LEGO sets, including NINJAGO sets for $7.99 and 40% off city sets. What are you waiting for? We know you secretly want to play with this toy as much as your kid does!
Price: Pop Star Limo set (photo above) is $17.49, original $24.99
Don't let buying children's toys be a waste of money. Instead, look for toys which are on sale, like the toys on this fun list!