Are you not able to go out for a Valentine's Day date this year? Perhaps you have a busy work schedule, you and your partner are low on funds, or you just don't feel like going out. Whatever the case may be, there's no reason you must leave the house to enjoy this special day together. You can have just as much fun celebrating Valentine's Day at home together, whether it's by exchanging gifts, having a nice meal together, or something more private.
Here's how to make it a perfect Valentine's Day at home:
1. Cook Dinner in a "Heart Beat"
There's cooking dinner in a pan, and then there's cooking dinner in a Shallow Heart Cocotte by Le Creuset. This is amazing enameled cast iron pot is a perfect pink color and heart shape to make your Valentine's Day meal at home extra special. Get it now when you spend $150 online and use the promo code LOVE.
2. Valentine's Day Pajamas
What better way to snuggle up with your Valentine's Day date at home than with holiday pajamas? Right now at Pajamagram, you can choose from all kinds of adorable pajamas at great prices! There are also gift sets like the one you see above, where you can get both cuddly pajamas for just $139.99!
3. A Cozy and Intimate Love Nest
Pacific Coast wants to help you build the ultimate love nest at home for a very affordable price. Why go to a hotel when you can make your bedroom just as cozy for Valentine's Day? Right now, shop at their online store to get 20% off any two pillows and comforter, or 25% off and 2 pillows, comforter, and feather bed. Best of all, free shipping! Get it before Valentine's Day comes!
4. A Sexy Corset
We all know what the one benefit is of doing Valentine's Day at home…! If you want to liven up your at-home date, you can do so with a sexy corset from Corset Deal They have all kinds to choose from for Valentine's Day, and most are already 40% off with an additional 60% off until February 14th. Just use the promo code V60.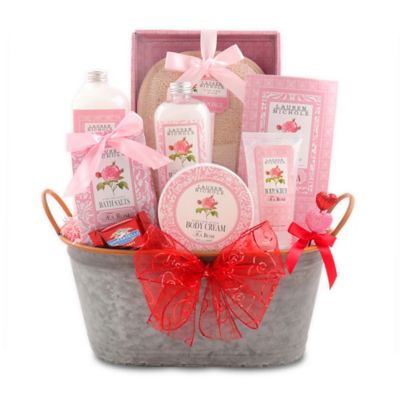 5. Bed Bath and Beyond Giftsets
No one knows how to make Valentine's Day home better than Bed Bath and Beyond. They have amazing gift sets that are just perfect for your holiday date at home.  If you and your partner fancy a bubble bath, something like the 12 Roses Spa Gift Basket by Alder Creek Gift Baskets has all the ingredients for a romantic Valentine's Day indoors. And, you can get free shipping on orders over $29 as well as 20% off one single item when you sign up!
Why go out when you and your love can make a Valentine's Day at home?