DIY bouquets
Flowers eat up a huge part of the budget. Florists admit that the flowers themselves can be relatively inexpensive, but you pay up for the time  it takes to construct the arrangements. If you have a team of BFFs or moms to help you with this the morning of, you can do one of two things:
1. Buy your flowers at Stop & Shop and arrange yourselves. They may be simple, but elegant. The key is to arrange full blooms tightly. You don't want room in the vase. Details are key, like wrapping ribbon or twine around the vase. Sticking with one variety will streamline your look and the process. Roses, tulips, or hydrangeas look classy and elegant. As seen in this example, clear marbles at the bottom and a little bling in the center finish the look, or go organic and complement with candles instead.
2. Don't use flowers. Get creative with baby's breath, twigs, candle arrangements, or vases filled to the brim with colorful candy. You'd be amazed what you can come up with at a craft store. Check out Etsy and Not on the High Street for unique ideas and items to use.
The Dress
There are some great alternatives to a traditional wedding dress with a 4k price tag. Instead, try a retail store, like J.Crew Factory, or Ann Taylor. Both of these options (J.Crew) are $950.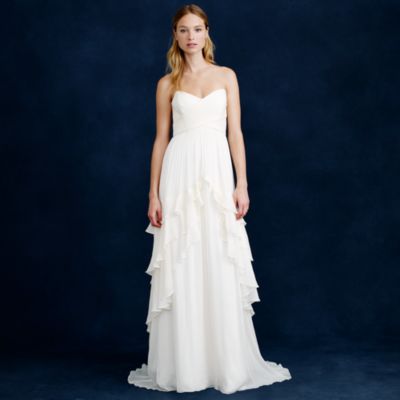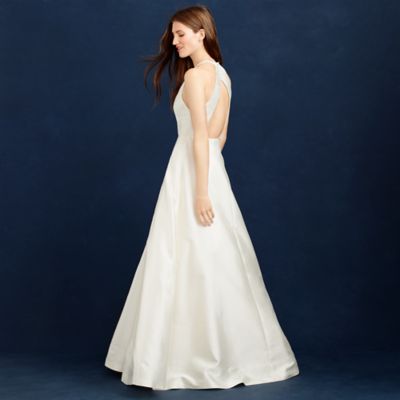 Another great option is renting your wedding dress and definitely your bridesmaid's dresses. We love Rent the Runway. Just get it in plenty of time to be sure the quality is what you expect. If not, they are very quick to offer a replacement.
If you're looking for a "second" dress, there are great options right off the rack. Check out BHS Department store for crazy good prices.
Food & Drink
This is most of your budget. One option is to ask the chef to create a combination plate and eliminate choices. Instead of beef, chicken, or fish, create a plate with shrimp and beef medallions. This will cut cost by thousands because the chef won't have to purchase 200 of each item. Even when the guests send in their preference, people forget or change their minds, which means they kitchen still has to be healthily stocked. Creating a great meal, but eliminating choices will save you bundles.
Another option is to serve one even less expensive combination dish, like chicken and pasta. The chef can make it his own by adding interesting sauces or veggies.
When it comes to alcohol, you're being charged per guest, no matter who drinks what. One option is to limit the number of bottles served. You can only do vodka, whiskey, beer and a white and a red wine, which will significantly reduce bottles the bottles that are opened. No need to go top shelf. You're guests might have to live with Absolutevodka instead of Greygoose.