Back to school shopping is upon us and you are being bombarded with deals and sales. It's hard to convince your child that he or she doesn't need EVERYTHING right this minute. After all, it's not Christmastime, right? There are few places you should focus your money, and leave the rest for later. In studying the patterns of sales, here's what we came up with:
1. Buy a few basics, only.  Purchase two pairs of new pants, a few long sleeve shirts, and an inexpensive hoodie or fleece for a chilly day as staples until late October. Likely, your child can squeeze into whatever they were wearing last March until then. Check out these go-to items from the Children's Place. And never, ever, shop there without a coupon code. They have sales all the time. Both of the pants shown below are $7.50.
Wait until Columbus Day (or later in October) to shop sales. In fact, for kids, "fall" clothes are generally the same thing as winter clothes. Sure, add a heavy sweater and puffy jacket for winter, but basically, your kid is wearing pants and long sleeves all winter. That said, buying "transition" clothes is a waste of money when money is tight. Instead, wait for "fall" inventories to go on sale. This usually happens at the end of October. In many cases, your child won't put on boots until then, anyway.
2. Buy a good backpack, especially if your child is older and is required to bring books home. We love LL Bean's signature back pack. They get pricey, but can last years. The best part about anything from LL Bean is that there is a lifetime warranty. If it breaks in three years, return it.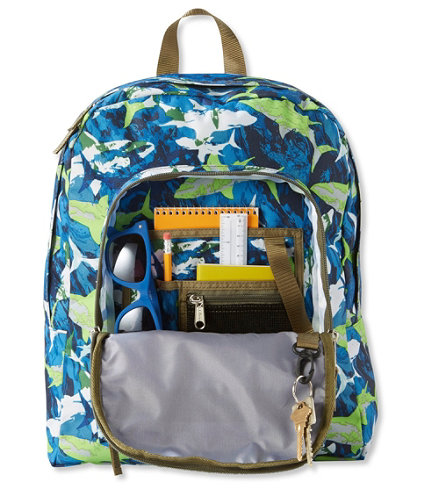 3. Buy comfortable sneakers. Stride Right can be pricey, but keep checking back for a good sale. (Right now, there is a BOGO 40% sale). If you plan to buy online in order to take advantage of sales,, it might be a good idea to find a store near you and get fitted first. Sneakers aren't exclusive to a "season" and therefore they're on sale all the time. Also check out 6PM.com, an Amazon partner, for the lowest of the low prices, plus free shipping. Some of 6PM is last year's stuff, but you're kid doesn't need to know that.
4. A good haircut. Let your child go back to school feeling good about himself or herself. A little something "extra" to signify his or her maturity will go a long way in building confidence. For example, let him get a mohawk, get her ears pierced, or let him or her experiment with blue hair dye. Even the permanent stuff fades surprisingly fast.